BESPOKE DESIGN
As an artist blacksmith I have learnt to design from all types of styles and visual sources, this enables me to work with a client to achieve a unique piece.
The project below is a Public art project in Hunston, near Chichester, West Sussex.
After being approached by the council I designed two panels that, I felt, reflected Hunstons character.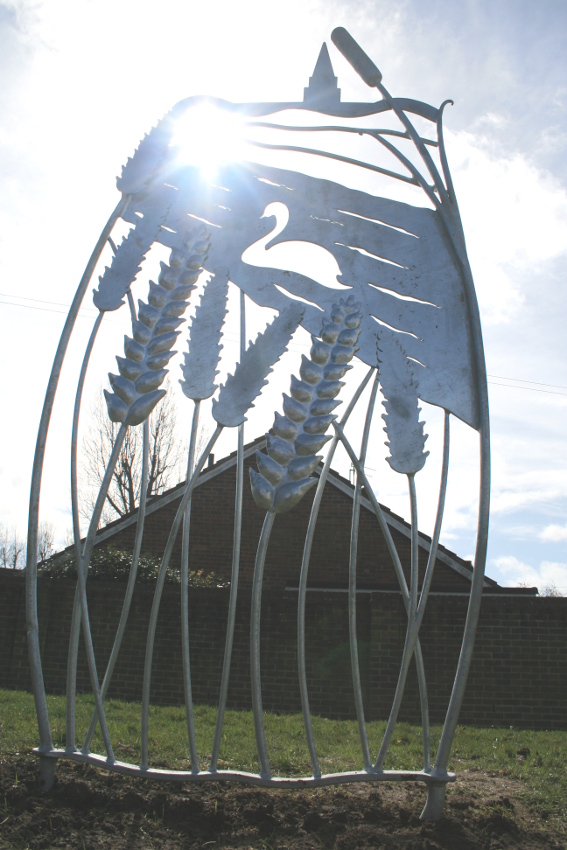 The picture above reflects the wheat that is produced in Hunston, the canal and Chichester cathedral.
The Picture below reflects above and below the canal, which is teaming with wildlife, including the Perch, newt, Lily's and reeds that are within this panel.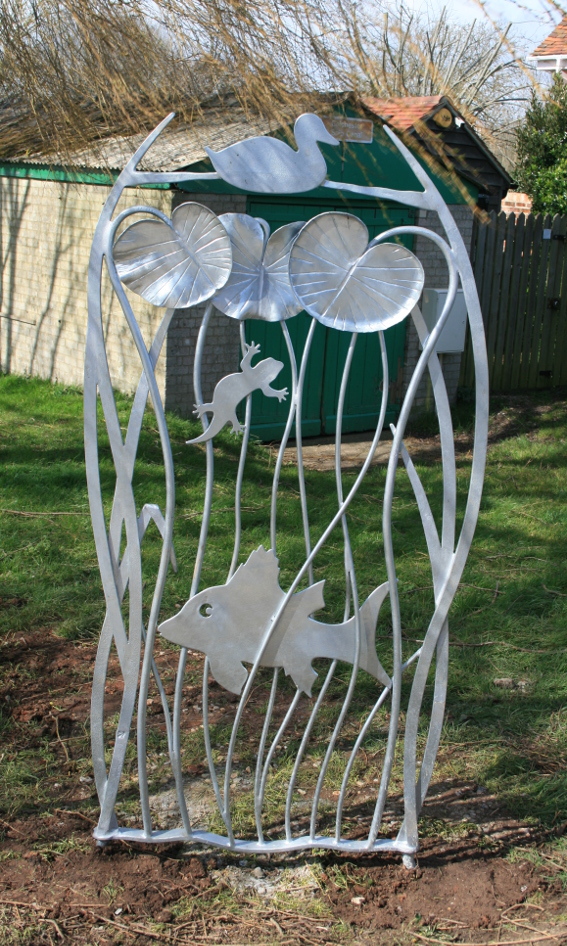 I have been a blacksmith since 1998 and have learnt to design and make my work, achieving a BA [HONS] as an Artist Blacksmith. I decided to set up my own business in 2008 within Amberley Museum, West Sussex. Here I work to commission, making and fitting a large range of products that are made especially to suit the clients specifications and the location. Whatever you would like Chalk Pit Forge can make and fit the finished piece for you.
Please contact Alex Smith on 07793679788 or e-mail- alex@chalkpitforge.co.uk for any inquiries.
This Juliet Balcony has been designed/made by Chalk Pit Forge to incorporate arts and crafts and art deco styles. It has been made using traditional techniques such as mortise and tenon joints going through punched holes so the bars swell around each of the joins. The amber glass, which is inserted into the split metal arts and crafts pear shapes, has been used to make use of the light entering the room on the inside. The copper panels are used to enhance the art deco style as well as adding a contrast to the black finish on the mild steel. The finish is a zinc spray and powder coated matt black.
Juliet Balcony, Sussex.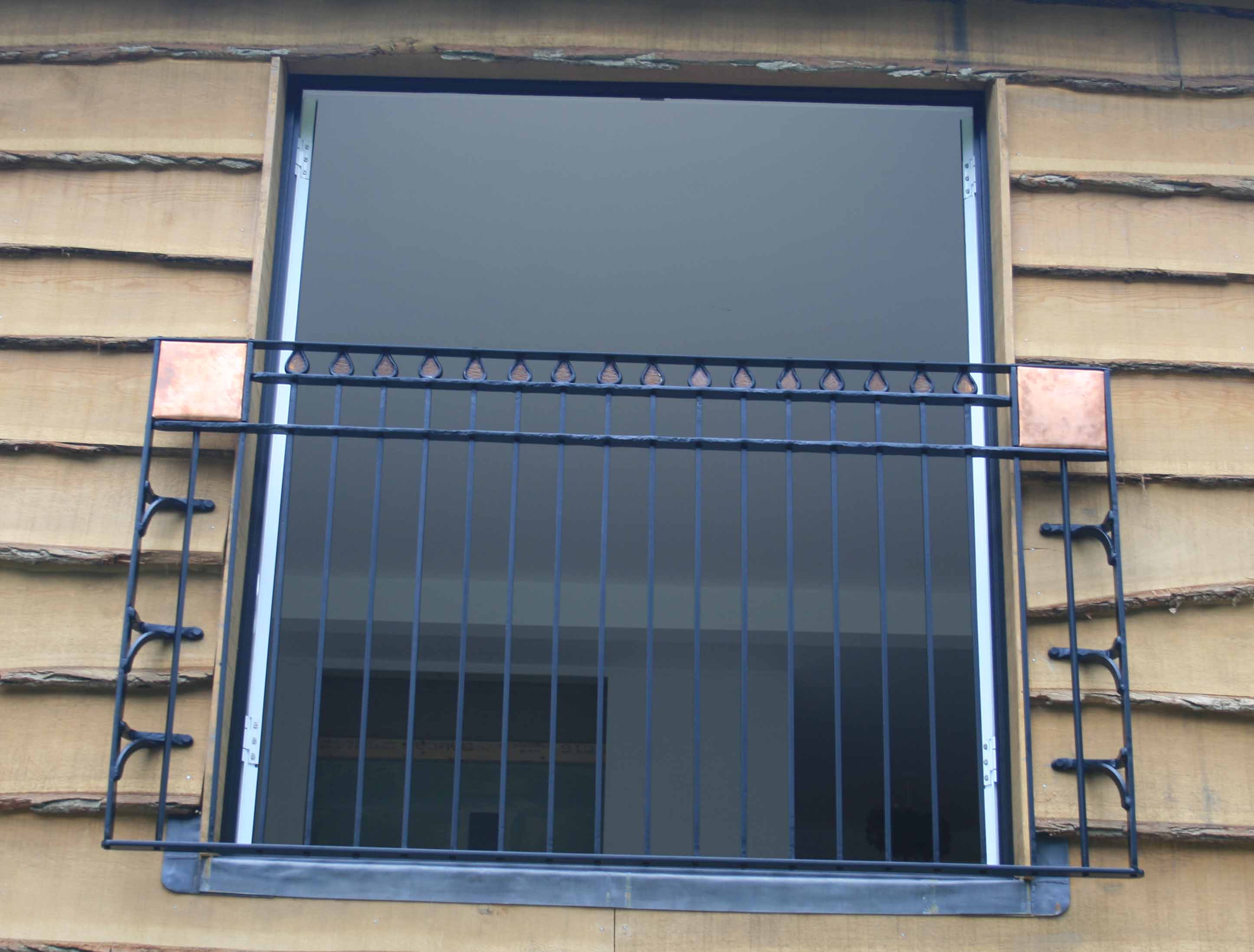 Work can be made using the traditional joining methods above, which add a nice touch to the smaller details or it can be arc welded together or both, you can decide what works best for you.
The Pine tree and bull rushes gate was made for a client in West Sussex using techniques such as arc welding, laser cutting, hot punching, forging and bending.
The design uses inspiration from the bull rushes from a pond and the pine tree from the pine forest close to this location. The other criteria was something spiky to make it hard for intruders.
The finish is a zinc spray and powder coated black gloss.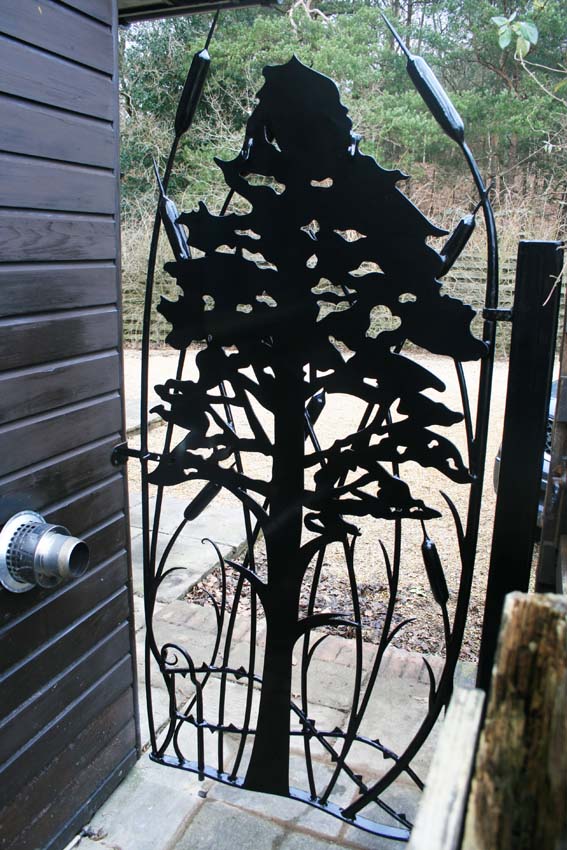 The railing below was made for a bridge that crosses a stream in West Sussex. The design criteria was something inspired from nature and something sculptural and artistic.
The mild steel has been forged, split, bent and arc welded. It has no finish and has been left to rust [see bottom photo].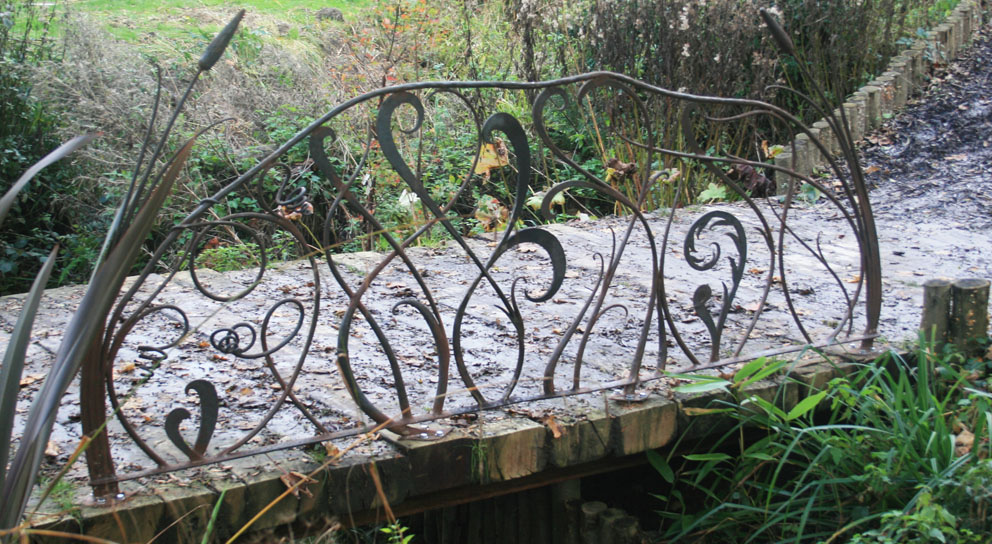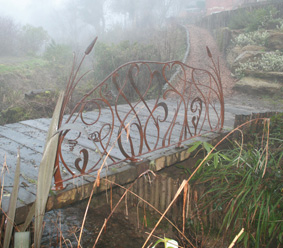 Photos of a sculpture being made for an Iron anniversary.
Mild steel bar being held in vice, hot and ready to bend.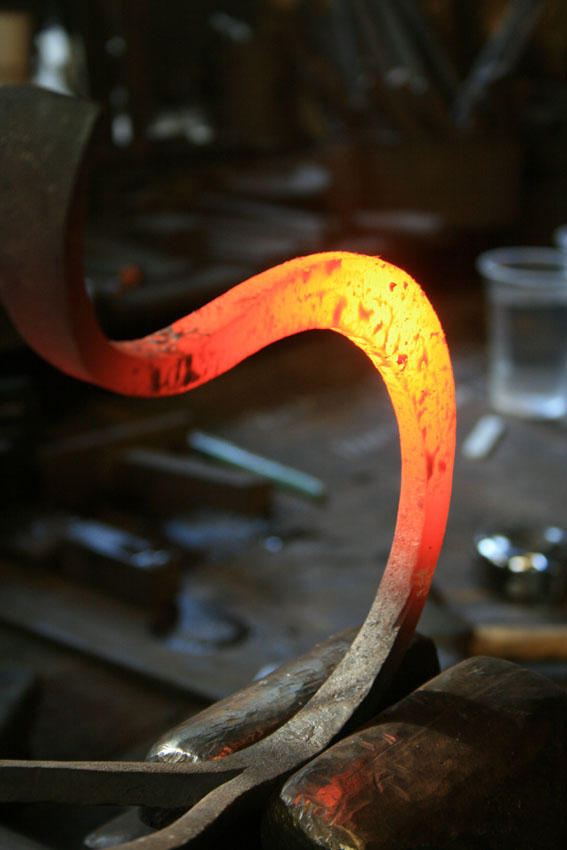 Stainless steel ball positioned and the hot mild steel tapped down to hold it in place.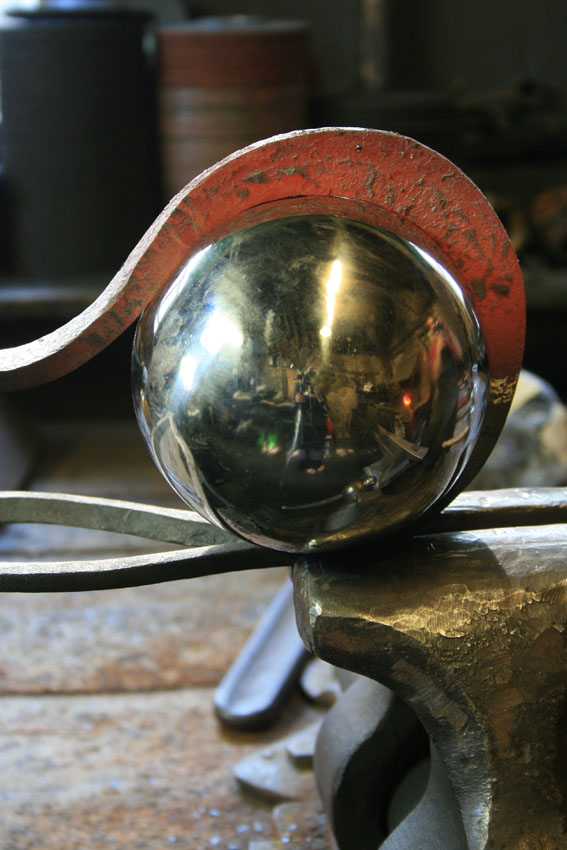 The Forge, Mandril [blacksmiths cone], anvil, tongs, swage block and me [Alex].